Podnikatelska 267
Praha 9 - Bechovice, 190 11
Czech Republic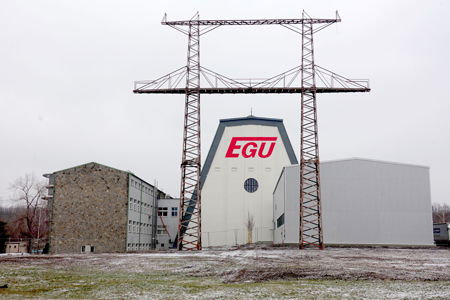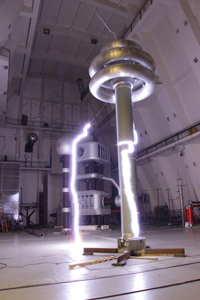 Overview
Fully independent and internationally recognized High Voltage Testing Laboratory with more than 65 years of continuous experience in the testing and research.
The High Voltage Testing Laboratory has been accredited acc. to ISO / IEC 17025 for more than 25 years.
EGU – HV Laboratory provides customers with fully secure live video streaming from the testing, if required.
Key Contact Personnel:
Jan Lachman, Managing Director lachman@eguhv.com
Marek Brosch, Testing Lab Manager brosch@eguhv.com
Major Markets Served: Europe, USA, Asia, Middle East, Africa, Australia
Other Website: www.hvindependent.com
EGU – HV Laboratory is officially approved for the testing from the following companies: DEWA, TRANSCO, SEC, TNB Malaysia, NTDC Pakistan
Services
High Voltage Laboratory
Number of Employees in High Voltage Laboratory: 15
Main Testing Hall (ZH1): 54 m length x 25 m width x 24 m height
Secondary Testing Hall (ZH2): 30 m length x 12 m width x 11 m height
Third Testing Hall (ZH3): 35 m length x 18 m width x 10 m height
Dielectric Testing Facilities:
Max. Voltage / Current

Standard/Remarks

Impulse Testing:
Lightning Impulse

2600 kV

IEC / IEEE

Switching Impulse

1600 kV

IEC / IEEE

Impulse Generator 1.8 MV

1.8 MV / 180 kJ

power cables testing

A.C. Testing:
Cascade Transformer

1200 kV / 1 A

IEC / IEEE

Modular Type Series Resonant System MSR 600/1200

600 kV / 1200 kVA

power cables testing

D.C. Testing:

up to 300 kV

IEC / IEEE

Partial Discharge & RIV Testing:

800 kV

IEC / IEEE

Capacitance & Tan ∂ Testing:

800 kV

IEC / IEEE

Pollution Testing

salt fog / solid layer / special tests

IEC 60507

Temperature Rise Testing
of Bushings

6 000 Amp

IEC 60137 / IEEE Std C57.19.00

Heat cycle tests on fittings

3 000 Amp

IEC 61284 / IEC 61238-1 /
ANSI C119.4

Electrical type tests on power cables

up to Um = 420 kV

IEC 60840 / IEC 62067

Modular Type Series Resonant System MSR 600/1200

600 kV / 1200 kVA

power cables testing
• Five test chambers for the tracking and erosion salt fog testing as per IEC 62217.
• One test chamber (475 m3) for the pollution testing as per IEC 60507.
• Tracking wheel test as per IEC / ANSI
---
Other Test Capabilities
RIV & Corona Measurement: 800 kV -IEC 60437, CISPR 18-2, IEC 61284
Temperature Rise Tests: Bushings up to 550 kV / all types / IEC + IEEE
Pollution tests: Salt fog testing, solid-layer testing (clean fog, flow-on method, rapid clean fog etc.)
Mechanical Tests: Horizontal testing machine – tension / max. load 600 kN / max. length 5 m
Vertical testing machine – cantilever / max. load 30 kN
Thermal Mechanical Tests:   Three thermal – mechanical chambers with max temperature range – 60 ºC to + 80 ºC; up to 500 kN and 3,2 m in length (tensile) & up to 50 kN (bending)
Insulator Sets: Dielectric type testing of insulator sets – RIV / AC / LI / SI – Dry / Wet
Setups according to IEC 60383-2 and customer requirements.
High Voltage Bushings: Type testing of insulator bushings acc. to IEC and IEEE standards.
Electrical testing, cantilever testing, tightness testing, temperature rise testing, thermal stability testing
Insulators: Full design and type testing of glass, porcelain and composite insulators as per IEC, ANSI and other standards. Hollow Core Insulators: Design and Type testing – interface test, internal pressure test, leakage test.
Environmental and On Site Tests: Measurement of pollution degree and state of external insulation, measurements of radio interferences, electric and magnetic fields, audible noise and overvoltages, simulation in ATP/EMTP.
Other tests: Performed on hollow core insulators: design and type testing – interface test, internal pressure test, leakage test, surge arresters, bushings, disconnectors, switchgears
R&D Activities: Overhead line design, insulation coordination studies, ferroresonances, HV cable performance studies, Transient-overvoltage studies and measurements, international research activities, standardization.
Activities in IEC and CIGRE: Company experts are active in IEC TC 36, CIGRE SC D1, C4 and B2.