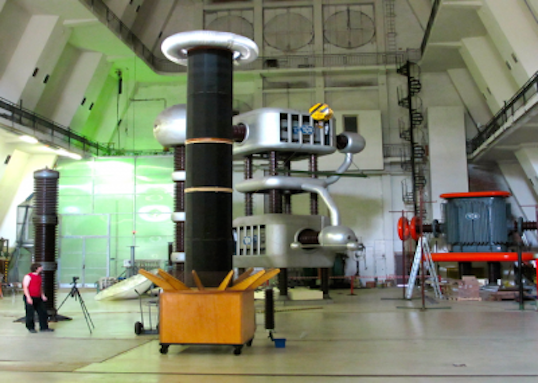 Attending the unveiling of an ultra-modern transformer factory and test laboratory in Lebanon recently reminded me of the key role that power transformers play in today's electrical apparatus marketplace. They're typically the most costly asset in any high voltage substation. Moreover, in the event of a major failure (often resulting in fire), the time needed for their repair ? let alone replacement ? is far longer than for any other type of apparatus. Indeed, unlike circuit beakers or instrument transformers, there's no 'quick fix' or mobile solution usually at hand and spares are often just not available on short notice.
Power transformers are manufactured in a relatively large number of production sites all over the world and rigid standardized testing schemes ensure that quality assurance for them remains a thriving business. Three types of tests are usually distinguished in these standards:
1. Routine tests, to which each individual transformer is subjected
2. Type tests, performed on one transformer representing a series, and
3. Special tests, as may be agreed between manufacturer and customer.
Perhaps best known in this regard are verification of dielectric and thermal stress withstand as well as determination of losses (all belonging to the first two categories of tests). One of the so-called special tests includes short circuit withstand and in many respects this falls into a class of its own.
During a short circuit, the passage of the short circuit current through the transformer generates large electro-dynamic forces that increase with the transformer's size and complexity. These forces are absorbed mainly by the insulation system, composed primarily of cellulose-based material that, by its very nature, is better able to withstand compression than either bending or tension. Therefore, proper design of the mechanical structure of the transformer windings is always critical.
Verification of short circuit withstand capability – demonstrated either by calculation or by testing – is notoriously challenging. In the first case, the process, commonly called a 'design review', requires comparing calculated stresses in the transformer under study to those estimated in similarly designed winding structures that have already passed the tests. By keeping the forces below test (or known yield) levels, a certain perspective on any unit's short circuit withstand capability can be obtained. Unfortunately, while a documentation framework for such design reviews is laid down in IEC 60076-5, material, manufacturing or other imperfections cannot be accounted for.
Testing is therefore an alternative to design review, though it's clear that this is much more costly due to considerations of transport, assembly and disassembly – quite apart from the testing itself and any repetition of routine tests originally performed at the factory. Nevertheless, the request for short-circuit tests (especially for power transformers > 25 MVA) is now growing rapidly. At KEMA, for example, some 20 to 30 large power transformers are being tested for short circuit withstand capability each year.
Such tests require maximum power from the test laboratory because actual system power has to be made available. Ideally, such tests should also be performed in three-phase circuits since they must represent a realistic flux linkage of the three phases. In the event that insufficient power is available for three-phase testing, 1.5 phase tests are recommended, in which case full current flows through one winding and only half through each of the other two windings. This guarantees at least an equivalent current magnitude in all three phases at the moment of maximum asymmetrical current.
Our own test results confirm that short circuit withstand capability is not always guaranteed. Indeed, of the 140 power transformers (25 to 440 MVA) we tested over the period from 1996 to 2010, 36 (or 26%) failed to pass even at the initial stage of testing. Half of these were later re-tested after reinforcement by the factory. Most often, failure was due to an increase in short-circuit reactance beyond the limit set in the standards. However, at other times, more obvious failure modes included fire upon application of voltage, severe oil spraying, or rupture of the porcelain bushing, among others.
Normally, the reason for the increase in reactance is deformation of the winding structure. That's because short circuit radial forces tend to compress the inner windings and expand the outer ones, while axial (and combined) forces can dislocate or twist the windings. Application of the short circuit current is, of course, the first and critical part of the test procedure. After this, visual inspection has to be carried out at the manufacturer's site, followed by routine tests.
Cost considerations and a limited capacity of available testing facilities (only some half a dozen laboratories worldwide are equipped to do this) together mean that only a fraction of all power transformers can be short circuit tested in this manner. As such, a risk assessment usually has to be made. Those transformers having a design more vulnerable to electro-dynamic forces (e.g. split-winding types) will be especially good candidates for such a test. Similarly, transformers at critical locations, such as step-up transformers at power plants, are regularly short circuit tested. Finally, transformers that operate under conditions of high fault incidence, such as traction transformers, also have to be frequently tested.
Based on many years of testing experience, it can be said that those transformer manufacturers forced to have their products short circuit tested by major utility customers ultimately learn important lessons. The result is often a reduction in failures encountered during tests in subsequent years. In China, for example, an increasing incidence of field failures of transformers caused by short circuit was eventually brought to a halt by mandating such testing and opening a dedicated power laboratory to do this.
More to the point, a CIGRE study found that one third of all transformers failing in service due to inadequate short circuit performance had previously successfully passed the design review process, while none of the failed ones went through short circuit testing. That speaks for itself.
Professor Rene Smeets
Rene.Smeets@dnvgl.com