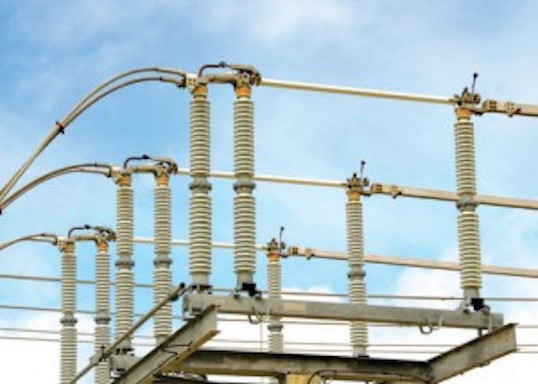 Switching in power systems is most often thought of as  something carried out by heavy-duty specialized devices  such as circuit breakers. One therefore tends to forget  that a large number of switching operations on high-voltage  networks are in fact performed by disconnectors  – open-air devices that outnumber virtually every other  piece of apparatus at a HV substation.
These are relatively simple mechanically, with two contact  blades that slowly move away from each other whenever  instructed. Their basic function is to make a visible separation  between different parts of the electrical supply system,  typically to isolate a particular component for maintenance.
Disconnectors are often involved in 'live' switching as well.  This means that there is some current involved, even when  the relevant network section is not loaded. The current in  this case flows as a result of 'parasitic capacitance' and,  though only a few tenths of an ampere, it can appear quite  spectacular. At separation of the contacts, the current will  simply not cease – mainly because the voltage across the  blades at this point immediately breaks down the hot air gap.  Only when a substantial contact distance is reached (namely  one that the available voltage cannot bridge), does current  stop flowing.
During the intervening seconds, an electric arc becomes  visible – namely, 'electricity in air'. The length of this free  burning arc can attain several meters because the arc heats  up the air and thereby creates a more conductive path for  itself. Only wind has the potential to destroy the 'party', much  like in breakers where far more powerful fault arcs are cooled  by blasts of gas.
The nature of these free-burning arcs was recently studied  at the University of Eindhoven as part of a PhD project whose  goal was to find ways to increase disconnector current  switching capabilities. Based on tests at various laboratories,  it was discovered that disconnector arcs are highly repetitive  in nature. There is also a natural tendency for any arc to self extinguish  at current zero. However, the poor insulation of the  heated air immediately upon extinction usually cannot resist  the voltage imposed by the circuit and the arc re-ignites for  another cycle.
The research helped clarify that the interaction between the  arc and electrical transients of the circuit can be quite intense.  This interaction then has an impact when it comes to testing.  In the previous IEC standard on disconnector switching, the  test-circuit was not defined. After recognizing its potential  impact on disconnector arc behaviour (especially duration), a  new IEC document (TR 62271-305) was developed which details  the test-circuit and therefore makes testing less arbitrary.
Our research work also showed that the electricity flow  through air appears in two distinct modes: a short-lived  'machine gun' like firing arc across the shortest point between  contacts; and a highly erratic one that burns softly like a  huge flame and expands rapidly upward in air, often covering  meters in length.
The repetitive nature of the 'machine gun' type arc (though  pleasing to the eye and ear of any well-rooted HV engineer)  has its drawback. The rapid and frequently collapsing voltage  imposes steep surges on nearby equipment, sometimes  leading to reports of damage. The erratic arc version can  also reach too close to neighbouring conductors, thus  initiating faults.
Disconnector arc switching becomes especially complex  when the arc operates in the seemingly safe environment  of a closed GIS installation and needs to switch even lower  current, i.e. few milliamps. While there is no longer any 'sound  and light show', there are still neat short arcs that are even  more repetitive than in air. And there lies the problem!
The successive breakdown events in an SF6 environment  create very rapid trains of transients that roam with  virtually unlimited freedom throughout the enclosure. At any  opportunity to exit, e.g. at bushings, they partly escape the  GIS and continue on outward. Now they are called very fast  transient overvoltages (VFTO) and become a serious concern  – especially as the equipment voltage rating increases. For  UHV equipment of 1100 kV and 1200 kV, VFTO transients  reportedly reach even higher levels than lightning impulses.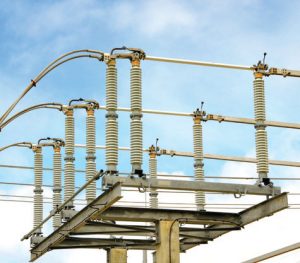 GIS disconnector testing has been under discussion for a long  time and, with the advent of IEC 62271-102, the 'dust seemed  to have settled'. Nevertheless, testing of such 'bus-charging'  switching duty remains a real challenge in every respect.  Transients with mega-hertz frequencies have to be measured  inside the GIS enclosure and laboratory HV sources then have  to be protected against the evil of a 'hit-and-run'. This calls  for very special skills and equipment. KEMA, for example,  has already conducted testing with equipment up to 550 kV  but we are increasingly aware of the risks during installation.
And so it is that specialists when it comes to testing switchgear  with hundreds of kA can find themselves challenged by  disconnector switching with no more than a few milliamps.
Professor Rene Smeets
Rene.Smeets@dnvgl.com