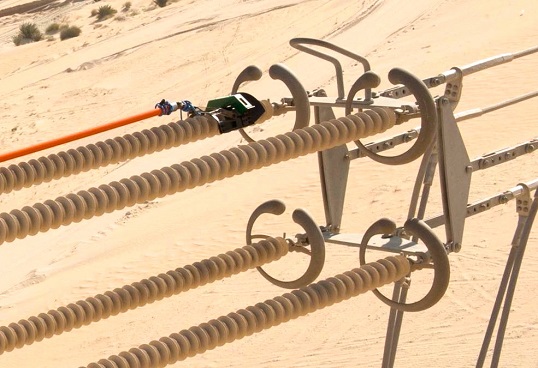 These days, transmission networks, the world over, are operating at or near capacity. Nor is this situation likely to change but perhaps only become more critical in view of the typical difficulties obtaining approvals for new line corridors. Given this, live line working (LLW) is increasingly the only realistic option whenever there is a need to conduct maintenance such as repairs or replacing defective and ageing components. However, in cases where such work has involved exchanging damaged composite insulators, no definite diagnostic tool has yet been offered in the field to guarantee that it was completely safe to do this live. More often than not, close visual inspection by trained observers has played a key role, even though it necessarily involves a subjective judgment and does not account for certain 'invisible' internal defects. Indeed, the current state-of-the-art when it comes to live line replacement of composite insulators is still not universally acknowledged but remains a topic of debate. Some experts are convinced that changing out defective composite insulators using well-defined procedures can now be accomplished with a high degree of safety. Others are not so certain. Two years ago, INMR met with executives at Positron, a supplier of insulator testers that has also introduced a device intended to contribute towards an immediate and convenient 'go/no-go' decision for LLW.
---
Reginald Weiser, an entrepreneur in power electronics for over four decades at Montreal-based Positron Power has already produced a string of success stories. Yet one of the company's most recent innovations has clearly has set him 'abuzz'. "We spent years developing the technology behind this device," exclaimed Weiser. "Linemen have to know whether or not it's completely safe to replace a composite insulator in what could be a life-threatening situation for them. Once we became aware that there was nothing convenient to do this, we saw an opportunity to modify our existing products into something that would satisfy this need." What Weiser is referring to by "existing products" are Positron's insulator testers, first introduced during the early 1990s. The result of collaboration with scientists working at the Research Institute of Hydro-Québec (IREQ), the patented devices were originally developed as a tester to assess the condition of porcelain cap & pin strings during routine maintenance inspections. A modified version soon followed that was designed for application on smaller diameter composite line insulators.
The basic technology behind the original tester, explained Engineering Manager, Salvatore Carbonaro, is straightforward, irrespective of type of insulator being inspected. "Our tester operates by measuring the electromagnetic field that surrounds every energized insulator," he said. "Any distortion to this normally smooth field suggests that the insulator is suffering from some defect and the location of that distortion identifies where along the insulator the problem is focused." Carbonaro also stated that, for practical reasons, the insulator tester is most suitable for assessing the condition of porcelain strings having at least 10 discs and composite insulators with a minimum of 25 sheds. "Basically," he noted, "it's a question of having sufficient space for the units to travel along the insulator, all the while recording field strength." The testers can accommodate up to 15,000 separate such 'readings' from monitoring strings on towers along an entire overhead line. These readings are then downloaded to a computer for interpretation and analysis as well as possible future remedial action by maintenance staff. Well over a thousand of these testers are already in use by electric utilities worldwide and are said to be completely safe for the operator since they have no direct coupling with anything under high voltage.
The newest version of these testers has been dubbed the 'GO/NOGO Insulator Tester' and works on the same principle of identifying distortions in field typically linked to defects. As with the earlier versions, it attaches to the end of a hot stick and is drawn across the entire length of the insulator, from low voltage to high voltage end. However, unlike the previous device, it is not designed to store volumes of data for retrieval downstream. Rather, it is equipped to trigger both visual and acoustic alarms should anything unusual be detected in field distribution. Said Weiser, "we did a lot of theoretical and experimental work involving thousands of insulators with the goal of validating our technology. Our new tester therefore relies on this same core technology. It only became a question of modifying the design in certain ways, including that it would generate a different output, namely an alarm." Weiser went on to explain that among the key design criteria for the new devices was making it absolutely clear to the user whether live line work was safe or risky.
One of the scientists originally involved in developing this technology at Hydro-Québec was Charles Jean, now a consultant working closely with Positron. He outlined some of the key features of the new device. "The unit self-checks from the start," he noted, "in the sense that if the internal battery's voltage drops below a critical level, an indicator tells the lineman that the unit is not functional. Then, the unit has a user-interface designed such that it can never give a false negative, i.e. identify an insulator as safe when in fact it is at high risk of failing. False positives – an indication that the unit is defective when it is really sound – are uncommon but possible, e.g. in situations where there is a moving dry band along the insulator from high contamination build up."
Jean explained that a moving dry band typically occurs during periods of high relative humidity where wetting of the contamination spreads across the length of the string but is then dried out by heat from leakage current. He also remarked that even if the insulator to be replaced is in relatively good condition it may still not be advisable to work with in such cases. Another dangerous situation exists when there is carbon tracking along the insulator. This, said Jean, is usually caused by poor sealing or a defective corona ring and will lead to chemical activity at the surface along with build up of conductive carbon. Yet the problem will quickly be detected by its impact on E-field. Jean emphasized that the main distinctions between the new device and the previous testers lie in its sensitivity as well as in removing all need for interpretation. "In the past," he said, "users had to conduct a complete scan of each insulator before transferring the data to laptops. The graphics were then inspected at a later date, often by knowledgeable people. With this new device however, the lineman must be able to complete the investigation on the spot. Therefore, we had to modify the software and also some hardware to eliminate the need to interpret a graph. Basically, the new equipment, which has a threshold sensitive to even the smallest defect, features built-in interpretation that simplifies the whole decision process."
According to Jean, focusing solely on electric field distribution is the most reliable and also most convenient way to search for hidden defects. While he acknowledged that there are other useful inspection tools, he claimed that these can be affected by ambient conditions and also require examining insulators from different angles. "With IR or UV inspection, a fault on one side of an insulator may not always be detected if looking only at the other side. Our unit will identify a problem in every situation since it reacts only to distortion in E-field."