In 1985, as a first step to help deal with severe problems affecting glass line insulators in Tunisia, energized test stations were established throughout the country. These test stations featured a variety of different insulator geometries and materials with the goal of ranking which performed best in terms of such factors as leakage current, hydrophobicity and natural self-cleaning. Sites selected included areas exposed to desert pollution, marine pollution, industrial pollution and various combinations of these. 
Shortly afterwards came the country's first application of composite insulators on the island of Djerba – a popular tourist destination where the overhead network had historically suffered from severe problems due to pollution. Later, in 1990, glass insulators having aerodynamic profiles were introduced in desert regions as a remedy for poorly- performing under-rib cap & pin type designs.
From the original 18 test stations, three were ultimately selected as most representative of the Tunisian service environment. An additional test station was then established in La Goulette, near the country's capital city, Tunis, and all the best-performing insulators from all the past research work were installed there. 
INMR reports on this site and how it has helped provide valuable input to determine the optimal cycle for local insulator washing. 
---
According to former Senior Department Manager at the Société Tunisienne de l'Electricité et du Gaz (STEG), Raouf Znaidi – now retired and working as an independent consultant – the La Goulette insulator test station represents a synthesis of everything that has been learned over more than 20 years of research involving some 500 insulators.
"Our first step," he explains, "was a lengthy general investigation of the whole country, involving 18 different test stations. From these, we selected three as best describing our typical pollution environment, including the Douz Station in the desert, the Zarzis Station exposed to both desert and marine pollution and the Gabes Station, which represented the worst case of combined industrial, marine and desert pollution. After years of ranking the most suitable insulator profiles by order of merit for each area, we then set up another test station here in La Goulette where all the 'winners' have now been installed."
"This type of station is very exportable and costs only about US$ 50,000 including the infrastructure and monitoring equipment. That makes the concept easy to justify and implement anywhere there are chronic service problems linked to pollution deposition on insulators."
La Goulette is comprised of a typical distribution tower supporting a series of test insulators with the classical glass cap and pin design acting as the common reference for comparing performance. All insulators are energized at 17.5 kV through a monophase transformer, linked by cable to an adjoining power source and each is equipped with a fuse to detect fault current.
At the top of the tower are instruments to record six key weather parameters including temperature, rainfall, humidity, UV, wind speed and wind direction. Situated in an area of mostly marine pollution and next to a large new power plant, La Goulette is considered as very important since it provides a barometer of how insulators are performing near to the country's commercial and political heart. The current site is now only one year old having been re-located from another nearby location for logistical reasons.
Belhasan Nafti has for years been part of Znaidi's project team for insulator pollution research and now works in the utility's technical department for transmission. He explains that the small structure below the test tower is equipped with all the instrumentation needed to record and report all retrieved data. This information is then transmitted to sound an alarm that critical levels of pollution have been reached in the region and that a program of washing must soon be implemented.
Says Nafti, "this test station provides information so that we can make an informed decision on the right time to wash based both on weather parameters and real-time data on the condition of the various insulators installed here. This is really the only way to optimize the timing of maintenance so that washing is not performed too early, which would be wasteful, or too late. which would be ineffective to prevent flashovers." He also points out that STEG has worked on its own leakage current monitoring system that can perform well even under the specific conditions of its difficult service environment.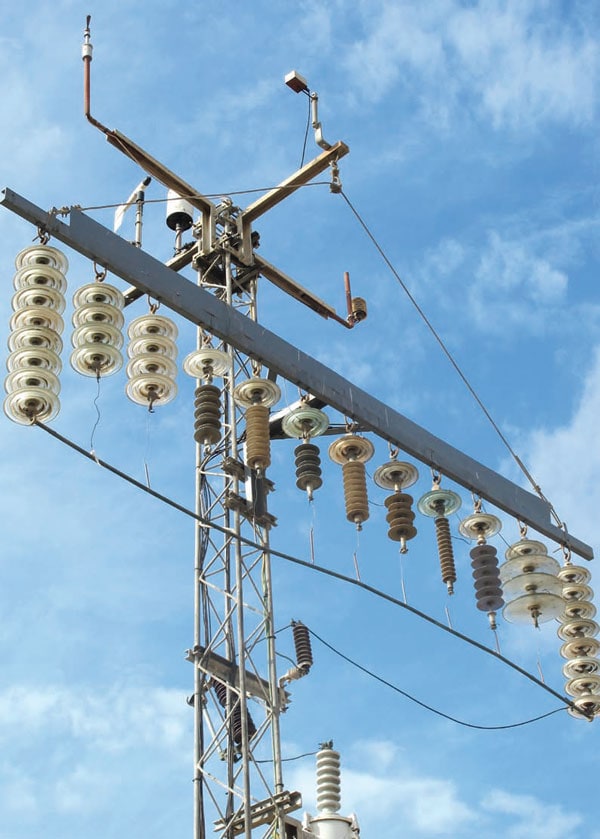 Znaidi adds that test stations such as La Goulette have proven to be a good investment for STEG since they have allowed engineers to determine the best shed design to permit good natural self-cleaning and avoid build up of a solid pollution layer. "This type of station is actually very exportable," he remarks, "and costs only about US$ 50,000 including the infrastructure and all monitoring equipment. That makes the concept easy to justify and implement anywhere there are chronic service problems linked to pollution deposition on insulators."