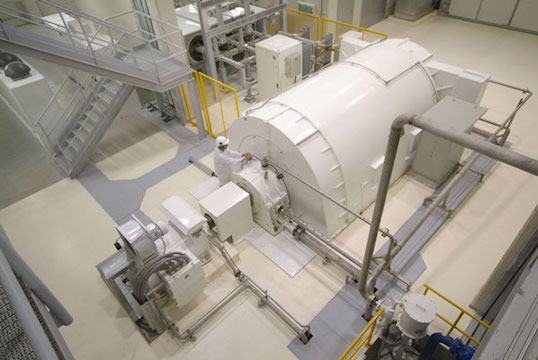 Connectivity seems to be a key word in our modern world: connectivity to energy, to information and to people.
For example, societies today are heavily dependent on the supply of electric power. Every country strives to connect its people and industries to electric energy sources in order to provide them with the basis for a desired standard of living. For those of us already connected, an uninterrupted energy supply – namely the quality and availability of our electric power – is equally vital to maintain our way of life and keep our economies moving.
Similarly, connection to information is more and more a byword to the internet. In some respects it has even become an addiction, with many seeking it anytime, anywhere and sometimes in any way available. Moreover, on a business level, information and energy connectivity are intimately linked and will become even more so in the future. The latest information acquisition and exchange technologies will be called upon to control the systems (and users!) of electric energy distribution so as to render the operation of such grids 'smart'.
And where do people fit into this scenario? The wish for interconnectivity between people is evident everywhere, especially in the explosion in mobile telecommunications – something that was completely unforeseen in the past. On a technological level, the exploitation of specialist networks between people is also at an unprecedented level.
All the above developments have an impact on the business of testing. Test laboratories can operate in a satisfactory way only if they maintain the right balance between their direct customers (mostly the equipment manufacturers) and the end customers of these manufacturers (namely the electric power companies and industry). Only by maintaining a proper distance between both of these parties can the main assets of players, such as KEMA, guarantee their independence. At the same time, communication across the spectrum between both these parties must also aim to optimize the potential for testing as a tool to assist quality assurance.
Networking and interconnectivity will play a crucial role in this process. This can occur not only through a direct business-tobusiness relationship that is normal to every industry but also through involvement in relevant international committees (i.e. IEC, CIGRE, IEEE, etc.).
In standardization, such as practiced by the IEC and IEEE, test-laboratories must be present on a prominent level. They bring expertise and experience in order to comment on the 'testability' of certain procedures – not only in the physical sense (i.e. based on test facilities) but also in the sense of 'testworthiness'. Tests must be technically relevant. By bringing intelligence into testing and examining test results in detail, the focus can be shifted to issues that are the most relevant.
Given that standardization committees are now dominated by manufacturers and technical expertise at power companies is outsourced, independent experts guarantee the adequacy, robustness and feasibility of standards.
Of course, this can sometimes trigger debate since different technical solutions proposed for the same tests will each come with their own relative strengths and weaknesses. For example, testing high voltage switchgear has always involved SF6-filled devices. Now that vacuum switchgear is slowly emerging at higher voltage levels, it might be questioned whether existing test programs, specifically defined to identify any weakness of an SF6 device, will be relevant for an alternative technology. Test laboratory specialists will have to bring their expertise to play here and take responsibility for the outcome.
Another reason why independent specialists should be closely involved in standardization is their unique role between the manufacturer and the end user of equipment. Given the fact that standardization committees are increasingly dominated by manufacturers while, at the same time, much of the technical expertise at power companies is now being outsourced, independent experts can serve to guarantee the adequacy, robustness and feasibility of standards. In the future, the technical requirements of power networks will only increase due to growing economic exploitation of all that they offer. All this should therefore be reflected in standards and test laboratories will need to contribute by investing in the necessary facilities as well as in skilled personnel.
CIGRE is the most important international organization of technical specialists when it comes to power engineering. Staying connected by means of networking through its various bodies is therefore critical – something that is reflected in the growing number of industry people who tap into its potential and participate at its biennial conference in Paris. Conceived and organized to support standardization, CIGRE's function is shifting more towards a virtual neural network or expertise centre for the operation of power systems and their components. This role is built mainly on working groups (WGs) that study specific topics over several years.
For example, in one of these WGs where I sit, various phenomena in present UHV systems (as yet not standardized) are studied and experience collected in two volumes of 'technical brochures'. The IEC then takes up all this information in order to prepare standards for components with system voltages above 800 kV. In another WG where I am Convener, the impact of a new generation of SF6-free HV switchgear, is being studied and we have recently arranged a meeting in China to collect data and discuss with local users, manufacturers and test organizations for such equipment.
Staying connected to all these formal (and informal) technical expertise centers and committees is today a must. People in the world of testing who want to become familiar with the latest generation of equipment that arrives at their laboratories must ideally be entrenched in all the discussions that led to the development of the equipment.
Professor Rene Smeets
Rene.Smeets@dnvgl.com