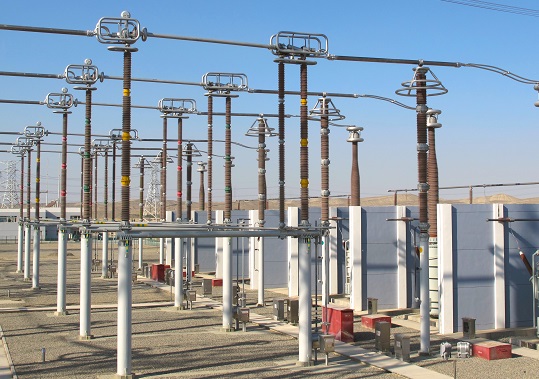 High power test laboratories have traditionally seen much of their work devoted to verifying the short circuit current breaking capability of circuit breakers. Though designed primarily for breaking high fault currents to prevent major tangible as well as intangible damage to expensive network assets, breakers must also perform a number of additional duties. One of these is inductive load switching.
In practice, the most relevant applied inductive loads typically come from shunt reactors that are installed in power systems to absorb reactive power and secure voltage stability. These are connected directly to the line or to the tertiary winding of transformers and are normally switched by the breaker. Because of varying system loads, the need to generate reactive power varies between day and night. Therefore, in contrast to a standard breaker that operates a few times a year to clear a fault current or during system reconfiguration, the breaker here needs to switch the shunt reactor frequently.
Another important difference lies in the magnitude of the currents being switched. Fault currents can be as high as tens of kiloamperes whereas shunt reactor load currents are only a few tens to a few hundred amperes. Although breakers are designed to handle very high fault currents, this much lower current, combined with the frequency of switching operations, can prove a challenge – sometimes even referred to as the 'breaker's worst nightmare'. This conclusion is supported by a recent CIGRE survey on reliability, which revealed that the incidence of major failures of high voltage shunt reactor breakers amounted to nearly 2.5 per 100 breaker-years, a rate 10 times higher than for overhead line breakers. The reasons for this are both mechanical, i.e. due to the number of switching operations, and electrical.
Since the breaker is prepared for maximum short circuit current, this massive extinguishing power is applied indiscriminately during low current inductive load switching as well and leads to clearance of the arc before its natural current zero. A small 'chopping current' then remains trapped in the inductive load and this generates a voltage across the contacts after arc extinction. Because of the 90° phase lag between voltage and current, the voltage reaches a maximum at the moment of current zero. With the chopping current overvoltage added to the natural transient recovery voltage, there becomes a reasonably high probability of breakdown of the contact gap with resulting re-ignition of the arc.
All transients in this type of switching duty originate from a single, nearby shunt reactor so that switching transients succeed each other faster than the switching gap can recover. As a result, a closely spaced multitude of re-ignitions are usually observed, creating a sequence of breakdowns from increasing voltage to zero. These very fast transients run into the system equipment in the immediate vicinity of the breaker, notably the transformer winding, which is stressed heavily. In fact, the classical question posed during investigation of any transformer failure is whether the breaker is producing too intense rapid re-ignition transients or whether the transformer winding was not sufficiently insulated against such fast transients.
In critical applications, the recommendation to avoid re-ignition is therefore to apply controlled switching, i.e. whereby interruption is delayed to the moment when the contacts have reached enough spacing from each other to withstand the transients.
This hazard of re-ignition was recognized in the IEC standard describing shunt reactor switching requirements (IEC 62271-110, updated in 2012). A key feature of this standard is the requirement that, taking such re-ignitions for granted, they are permitted during a single interruption attempt only. New test requirement for shunt reactor switching with breakers having rated voltage below 52 kV are now being introduced.
It is the philosophy of the IEC to describe transient recovery voltage (TRV) in terms of voltage wave shape parameters and, as long as these meet standardized values, the test is valid. However, in shunt reactor switching, re-ignition is ubiquitous and governed by high frequency phenomena. This means that small changes in test circuit parameters can produce large differences in results. More specifically, the high frequency currents that start upon re-ignition may or may not be able to be interrupted by the breaker, depending on circuit elements not specified in the standard.
This ambiguity is becoming all the more pronounced now that vacuum breaker technology has started to find application at transmission voltages, traditionally the domain of SF6 switching devices and to which present high voltage standards are in fact tailored. Even more than SF6 breakers, vacuum breakers can interact intensively with stray capacitances and inductances found in test circuits. Therefore, results of shunt reactor switching tests of high voltage vacuum breakers may differ among different test laboratories simply because the high frequency effects during interruption are different, even though the main electrical TRV stresses may be identical and accord to the standard.
Perhaps, future versions of this standard should describe shunt reactor test circuits in more detail in regard to their high frequency characteristics. This will allow for fairer comparison of test results among different laboratories. Indeed, one such example already exists – the IEC standard on high voltage motor switching that is clearly tailored to vacuum breakers
Dr. René Smeets
Rene.Smeets@dnvgl.com