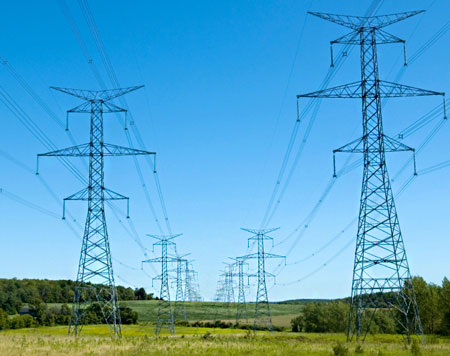 Early April is traditionally the period of the Hannover Fair, the huge shop window on all that's buzzing around in the world of power engineering. Among numerous innovations related to renewable energy and smart grid applications, I was pleasantly surprised to see a true innovation when it comes to switching technology – the first "Western" vacuum circuit breaker for transmission voltages, intended for use on a commercial scale.
Now, as far back as in the 1960s, a few such prototypes were developed and installed in England. In Japan, there are numerous high voltage vacuum breakers in service, most at 72.5 kV. However, in the Western hemisphere at least, switching and insulation in high voltage systems has always been the exclusive domain of SF6 switchgear.
This is certainly not surprising since SF6 combines the best of switching and insulating properties and has been proven effective up to the highest voltage levels in present power systems, i.e. 1100 kV as now being applied in China. SF6 in circuit breakers is very efficient at flushing away the electrical mess that is the leftover of the arc at current zero. Any remaining conductive plasma must be removed from the switching gap immediately before the power system strikes back within a few microseconds by means of an ugly transient recovery voltage. In addition, the withstand of SF6 against steady state voltages is excellent because it can capture free-roaming electrons within its molecular structure and thus prevent them from initiating avalanches leading to breakdown.
In vacuum, this is all very different. Here, the arc residue disappears automatically and very rapidly out of the switching gap by means of diffusion against the vacuum background. There is consequently no need for an active, externally driven system of gas flow that needs periodic maintenance and is at times prone to failure.
Regarding insulation, since there is ideally no medium in a vacuum interrupter, traditional dielectric breakdown cannot occur, in other words, the contacts fully determine the breakdown mechanism. This is a major challenge for the designer since the same contacts have to endure and control the switching arc that can leave traces behind – something not always favorable for optimum insulation.
The advantages of switching in vacuum are widely recognized in distribution applications, where the large majority of switching operations are performed in vacuum and with excellent service experience. This has resulted in a clear division of the switchgear market whereby distribution level switching systems are mainly 'vacuum' and transmission systems SF6.
Unfortunately, SF6 is a powerful greenhouse gas resulting in manufacturers now looking for alternatives or at least reducing any emission to the minimum level possible. Indeed, this is precisely why vacuum technology now comes 'knocking at the transmission door'. CIGRE has already initiated a working group on the application of vacuum switchgear at transmission voltages and a recent workshop by this WG in China witnessed many new developments of Chinese high voltage vacuum switchgear.
A worldwide survey among more than 100 users of high voltage switchgear showed there is still hesitation because of the limited service experience with (sub)-transmission vacuum switchgear. At the same time, the absence of SF6 and expected lower life cycle costs have created much interest in pilot projects which employ this new technology. In Japan, for example, there already exists ample experience with switching high voltage utilizing vacuum and covering thousands of installations. Since most of these were initiated years before the discussions on global warming began, the technology appears to have successfully demonstrated its maturity.
In a balanced view of the pros and cons of applying SF6, the argument about its impact on global warming should be put into a wider context. A valid life cycle analysis has to make clear what is the actual contribution of SF6 gas in switchgear systems when it comes to climate change. Due to the specific contact systems in SF6 switchgear, nominal conduction losses can be kept very small. With competing technologies, possible higher losses will have to be added to the lifetime carbon footprint.
For testing, a new discussion regarding standards has to start. Logically, testing of SF6 equipment must verify that certain potential weaknesses inherent in the use of the gas are covered adequately by the design. Since standardization committees are traditionally populated by 'high voltage specialists', many aspects of (switchgear) standards are looked at through the SF6 perspective. In several respects, vacuum switchgear can behave unexpectedly due to the completely different physics behind its relevant processes. This needs an unbiased rethink, especially regarding the dielectric withstand testing both in steady state as well as in switching. Sudden and "late" breakdown of vacuum gaps – luckily followed mostly by immediate restoration of insulation – has frequently been reported in the technical literature and is a major challenge to designers.
We at KEMA have responded to all these developments in two ways: first we have developed test circuits that supply a constant recovery voltage during capacitive switching, the most critical dielectric application (e.g. the switching of unloaded lines, cables and capacitor banks). In our view, such an approach is more realistic than relying on a decaying recovery voltage, as typical in synthetic testing of high voltage (SF6) circuit breakers and accepted because late breakdown is not so much an issue when it comes to such equipment.
Secondly, we have developed a measurement system that can monitor the very small current that flows between the vacuum contacts during the recovery process. This system can deal with currents from only microamperes to many tens of kilo-amperes. The electron field emission current pattern at the low end of the range then leads to understanding the breakdown processes and properly assessing the test object.
Professor Rene Smeets
Rene.Smeets@dnvgl.com