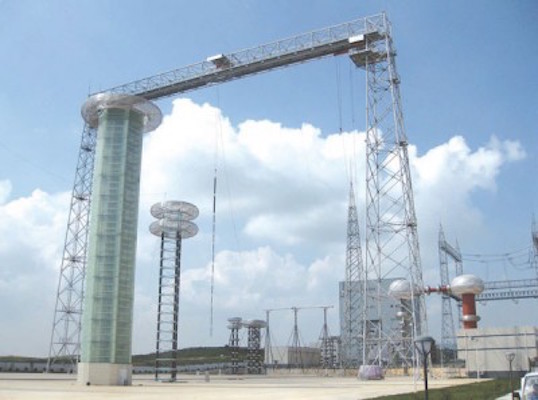 Because performance of external insulation at high altitude is seen as one of the key technical requirements behind UHV transmission, the China Southern Power Grid has since 2006 invested heavily in research intended mainly for this purpose and the Chinese government has approved this research base as a National Engineering Laboratory for UHV Technology. 
This research includes two components: a soon-to-be-built test site near the city of Guangzhou on China's southeastern coast and a second recently completed UHV test station located at an elevation of 2100 meters near the provincial capital of Kunming, in southern Yunnan Province. This new facility is among the most modern and best equipped of its kind anywhere in the world. 
INMR visits the new Kunming UHV Test Station to report on how it will support research and testing of insulators as well as related electrical equipment.
---
According to Li Ruihai, Vice Director of the new UHV test station near Kunming,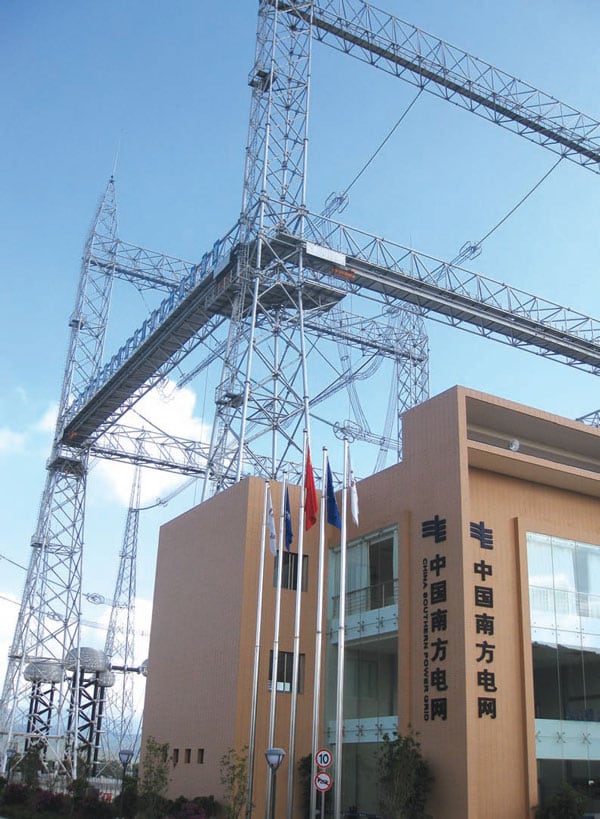 this new facility will provide valuable information to the China Southern Power Grid (CSG) to support its ongoing development of both ± 800 kV DC and 1000 kV AC transmission. Covering an area of some 500 by 350 meters, the facility has already completed the first stage of construction and second phase is proceeding according to plan.
Basically, the present station scheme consists of an outdoor test site to evaluate the insulation performance of different designs of electrical apparatus, a UHV DC test line running 800 meters with three spans, a UHV DC long-term test site for assessing a variety of equipment such as insulators and switchgear and a pollution test laboratory.
Wang Guoli, Sr. Engineer, explains that the second stage of this project will see the building of a three span 1000 kV UHV AC line, a long-term AC test site and a corona cage as well as an electrical ecology site.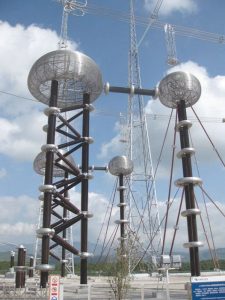 "This new facility is one of the world's best in regard to its capability for outdoor testing on UHV equipment and probably the only one of its kind for specific research on performance at high altitude."
At present, the huge outdoor test site (197m x 103m) is equipped with a sophisticated bipolar UHV DC generator that can produce ± 1600 kV (50 mA) with only low level partial discharges and also features fast reversal of polarity. There is also an advanced UHV impulse generator (7200 kV/720kJ) which outputs multiform impulses and particularly can produce a longfront time of switching impulse (2500s). In addition, the new UHV AC transformer (2250 kV, 2A) is apparently quite unique in that it is of a design made using composite housings and able to generate the highest voltage for outdoor use anywhere in the world. Located near the center of the outdoor test site is a special portal (door-type) tower with a 70m x 70m clearance that allows air gaps to be adjusted easily.
Says Guo Wen Yi, a HV specialist who recently returned to China after several years in Canada, "this test station location was selected because its high altitude poses the types of problems that can affect external insulation. The lower air pressure at such altitudes means that external insulation weakens and it's easier to break down the air gap. This," he points out, "is one of the most valuable aspects of this facility since we can do external insulation tests under actual high altitude conditions."
In the existing UHV DC test line, towers are of the same dimensions used on the CSG's ± 800 kV DC line that runs from Chuxiong Converter Station (see article on p. 26) in Yunnan to the Suidong Converter Station in Guangdong, some 1400 kilometers away. A special arrangement allows the line construction parameters to be adjusted to offer different types of conductor, mode of suspension (V or I string), pole distance and ground clearance.
"One of the most valuable aspects of this facility is that we can do external insulation tests under actual high altitude conditions."
Two projects are currently underway related to the variable ground clearances of the six-bundle conductor. Corona effects, including corona loss, DC electric field effect, audible noise and radio interference are the main factors measured resulting from the electro-magnetic environment from the UHV DC test line.
The UHV DC test line is energized by a pair of DC voltage generators (± 1200 kV, 500mA). These are designed specially for continuous long-term operation under conditions of high altitude and strong UV.
Apart from the DC test line, one of the special features of the new Kunming test station is the huge (60m x 60m) DC test site where long-term electrification testing at ± 800 kV can be performed on such devices as insulators, switches, current transformers, voltage transformers as well as arresters and which shares voltage source with the test line.
Guo explains that this test site can monitor the long-term performance of UHV equipment and that such testing is a very important to ensure safe operation of a UHV system, especially given the limited extent of manufacturer or actual operating experience. He also indicates that using this site can contribute toward improved on-line detection technology for UHV equipment.
Pages: 1 2