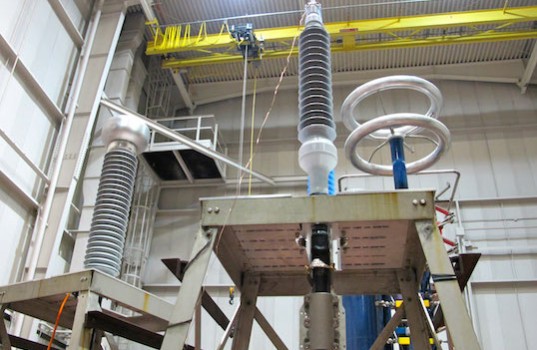 Over the past two decades, the use of extruded XLPE cables in underground transmission systems has increased steadily to the point that they now account for the vast majority of all new installations. This near total shift away from oil and paper insulation has made it worthwhile to look for improved methodologies for testing solid dielectric cables. At present, there are two primary IEC standards and one ICEA standard that prescribe the methods and requirements for type testing as well as commissioning testing of transmission class cables. This recent INMR article, contributed by industry expert John Kuffel as well as Mark Fenger and testing staff from Kinectrics in Toronto, reviewed the procedures which form the basis for these standards with a view to performing type test qualification to IEC and ICEA concurrently. It also proposed novel techniques intended to make these tests more efficient and economical.

---
Standards for Laboratory Type Tests
Type tests for solid insulation HV cables are described in two IEC standards and one ICEA standard:
•  IEC 60840 Edition 4.0 2011-11 "Power cables with extruded insulation and their accessories for rated voltages above 30 kV (Um = 36 kV) up to 150 kV (Um = 170 kV)– Test methods and requirements"
•  IEC 62067 Edition 2.0 2011-11 "Power cables with extruded insulation and their accessories for rated voltages above 150 kV (Um = 170 kV) up to 500 kV (Um = 550     kV) – Test methods and requirements"
•  ICEA S-108-720-2012 "Standard for Extruded Insulation Power Cables above 46 through 345 kV".
The electrical type test requirements for these standards are similar but not the same (see flowcharts in Fig. 1). As evident, the procedures mandated are different only in that cables rated for system voltages of 300 kV and higher require a hot switching impulse test while those rated below do not. The procedures outlined in the ICEA standard differ more significantly, as follows:
1. Different sequence of tests;
2. Higher required elevated test temperatures;
3. Requirement that cable loop is installed in a pipe;
4. No requirement that cable systems rated 300 kV and above be subjected to hot switching impulse test;
5. Requirement that hot impulse test be completed by breakdown (or that cable system is tested to limit of test equipment);
6. PD test performed at higher test voltages;
7. Requirement for 2 hour AC withstand test at 2.5Uo.
Typically, cable manufacturers and users prefer a single test program to satisfy the requirements of both standards and this can be done by utilizing the procedure outlined in  Table 1 and applicable to cables systems rated for systems up to 150 kV. Since this procedure combines the most severe factors from each specification, passing this program results in qualification to both standards.
Developments in Laboratory Type Testing
In order to improve the accuracy and integrity of cable type test procedures, several innovations have now been developed. These include a method of continuous heating throughout the impulse testing as well as eliminating the need for the dummy loop traditionally used during thermal cycling tests.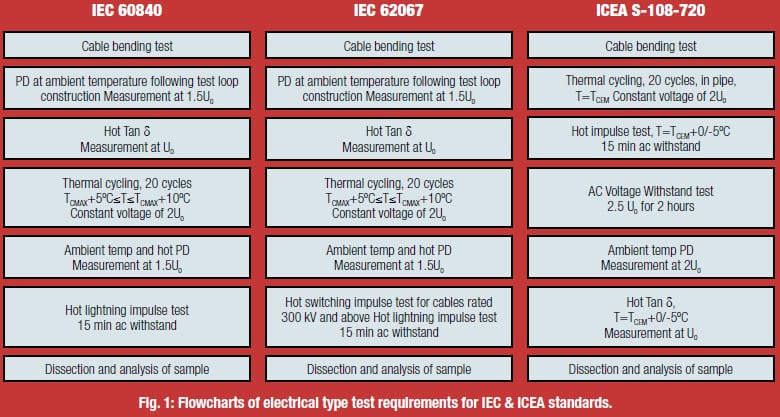 Impulse Test Heating
During the impulse testing segment of type testing, conductor temperature must be maintained within given limits linked to the maximum operating temperature of the cable system. Application of the specified 10 positive and 10 negative impulses takes time since impulses are typically applied every 2 minutes. This means that about 30 minutes are required for each set of required positive and negative impulses when taking into account the need for conditioning impulses at reduced levels.
Concerns about damaging the heating system during possible impulse breakdown have lead some test laboratories to heat the cable to the required temperature before application of the impulse sequence test. Then, upon initiation of the impulse applications, the heating source is disconnected.
If the cable is not heated during the 30 min period required for each set of positive and negative impulse applications, its temperature can drop significantly below the required limits. To address this issue, a method of heating the cable between successive impulse applications has been developed which ensures that the temperature limits required by the standards are maintained throughout impulse testing.
Eliminating the Dummy Loop
The protocol used during thermal cycling testing requires that the cable system undergo a heat cycling voltage test over the relatively long period of 20 days. The test involves heating, soaking and cooling the cable system for 20 cycles while the system is energized according to the specific voltage class of the cable and accessories. Each cycle lasts 24 hours while heating is maintained for 8 hours. During the first 6 hours, the cable conductor must reach a specified temperature and this must be maintained within a 5°C limit over the next 2 hours. The cable is then allowed to cool naturally for 16 hours.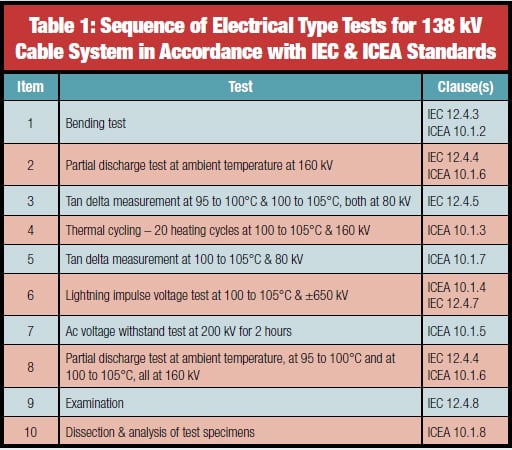 When performing this test, the standards suggest a control loop utilizing an identical cable. This 'dummy' loop is heated in the same manner as the test loop and the temperature of its sheath and conductor are continuously recorded. The only difference between the loops is that the dummy loop is not energized and therefore thermocouples can be directly attached to the conductor in order to measure its temperature.
Pages: 1 2